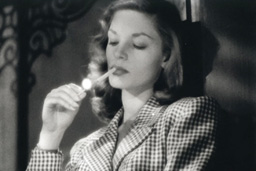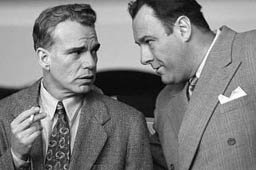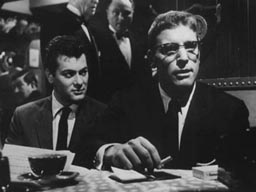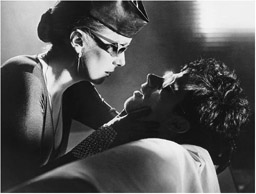 The painful pleasure
Ein mehr als fragwürdiger medizinischer Artikel verteidigte erst kürzlich wieder die These, dass das mittlerweile allerorts verpönte Rauchen von Tabak in erster Linie durch das Modellverhalten in Filmszenen initiiert wird: Auf der beständig rastlosen Flucht in bessere Identitäten entzündet sich der eigene Idolstatus und versündigt sich damit zugleich. Eine cinematographische Infektion also ?
Während psychosoziale Maskeraden zunehmend an gesellschaftlicher Akzeptanz gewinnen (42nd Life), und vermeintlich zwanglose Rituale zur Erhaltung des körperlichen und spirituellen Wohlbefindens immer mehr peinlich militärischen Charakter annehmen (Well-Well-Well..ness), wird die genussvollste Ersatzhandlung der Welt aktuell ins Off getrieben: Ein offensichtlicher und beängstigender Widerspruch, auf den wir jedoch nicht mit pessimistischer Resignation reagieren wollen (!!) In diesem Sinne also hier die Liste* der 10 Todsünden - Belichtetes erleuchtendes Celluloid und düsterer Nikotinrauch:
*** Ten Movies that Made Cigarettes Look Cool ***
10. Ed Crane (Billy Bob Thornton) in The Man Who Wasn't There (US 2001, Joel Coen)
Thornton stopped smoking after shoothing this movie. He'd spent twenty years suckling at the nicotine treat, but the chain-inhaling required to play barber Crane almost amounted to self-aphyxiation. He was admitted to hospital for nine days with bronchitis and drop-kicked the butts on release. So - in case you didn't know - Smoking is a Bad Thing. But here it looks so glorious. As lensed by Roger Deakins, virtually every frame is fugged (...)
9. Philip Marlowe (Humphrey Bogart) an Vivian Sternwood (Lauren Bacall) in The Big Sleep (US 1946, Howard Hawks)
Hawks the master tinker-man knew he had to inject something. Presto, he and his writers came up with a glistening nightclub scene where the two leads trade innuendos about riding - horses, that is: 'I like to see them work out a little first.. See if they're front-runners or come from behind.. A lot depends on who's in the saddle' (...)

8. Tyler Durden (Brad Pitt) in Fight Club (US 1999, David Fincher)
The cigarette is one of Tyler's essential props - harnessing generations of too-cool-for-school outsider iconography, while being essentially stupid and destructive; appropriate as you come to realize that he's not the messiah, he's a very naughty boy.
7. Jake Gittes (Jack Nicholson) in The Two Jakes (US 1990, Jack Nicholson)
Nicholson's commitment to smoking is as deep on screen as it is in life, but it probably needed Nicholson the director to give the actor full license to explore his grand amour (...)

6. J.J. Hunsecker (Burt Lancaster) in Sweet Smell of Success (US 1957, Alexander Mackendrick)
'Match me, Sidney' - Propably the greatest line in screenwriting. It points to character , theme and story (...)

5. John and Miriam Blaylock (David Bowie and Catherine Deneuve) in The Hunger (US 1983, Tony Scott)
Tony Scott's debut feature about vogueish Manhattan vampires showed off a wealth of stylistic tics and hip-abstract touches carried over from advertising, but time has not been kind to Scott's choice of motifs (doves and billowing curtains) or music (Bauhaus, Delibes). Even today, though Bowie and Deneuve look fantastic, not least when they're flaring up their smokes with an old burnished Ronson petrol lighter (...)

4. Sam Rothstein (Robert DeNiro) in Casino (US 1995, Martin Scorcese)
Robert De Niro always smokes as if his life depends on it (...) At least a Camel is friendlier than a Magnum .44 ...

3. Dallas Wilson (Matt Dillon) in The Outsiders (US 1983, Francis Ford Coppola)
Sorry, didn't watch that one..

2. James Bond (Sean Connery) in Goldfinger (GB 1964, Guy Hamilton)
Obviously.

1. The Film Star (Peter Falk) in Der Himmel über Berlin (GER 1987, Wim Wenders)
'I wish I could see your face, just look into your eyes and tell you how good it is to be here'. Falk grins. 'To smoke, have coffee. And if you do 'em together, it's just fantastic.' A godly sentiment, and if you don't get it you've been reading the wrong list (...)

* From 'The Book of Alternative Movie Lists' by Richard Kelly, Faber and Faber 2007
In case you disagree with the selection made here, feel free to tell - http://www.tenbaddates.com
-

DOING SOMETHING CLOSE TO NOTHING